The small business guide to maximizing sales this holiday season
Five strategies to prepare your business for a busy holiday season in the era of COVID-19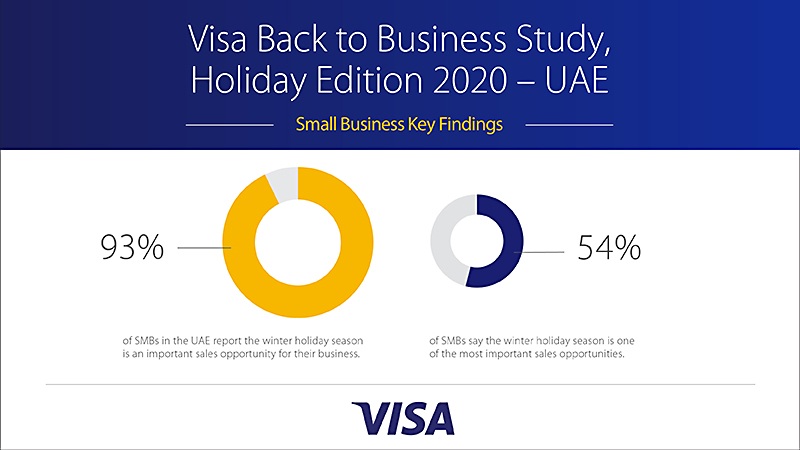 The holiday shopping season is fast approaching and that means small businesses are preparing for what is normally the biggest shopping season of the year. However, this year is anything but normal. The pandemic has changed the way we shop around the globe, with a huge shift to eCommerce and contactless payments, and small businesses looking to reach their customers this season are taking note.
The Visa Back to Business Study, Holiday Edition found that consumers are still ready to shop for the holidays, with 92% of UAE consumers planning to buy and give gifts despite the pandemic, and two in three (67%) planning to do half or more of their winter holiday shopping at local retailers to support their business.
For a vast majority (93%) of SMBs in the UAE (as compared to 68% of SMBs globally), the winter holiday season is an important sales opportunity for their business, with nearly half of them already taking steps to prepare for the seasonal sales activity, including 46% of SMBs digitizing parts of their business operations, 48% extending their hours and 35% outsourcing some business operations to vendors.
According to our research, COVID-19 has accelerated these five trends. For small business owners, making the most of these findings could help you reach new customers by taking advantage of the benefits of digital.
eCommerce "In Real Life." Nationwide shutdowns not only sparked a coronavirus-driven surge in traditional eCommerce, but the lines between online, mobile and physical world have completely blurred with curbside pick-up, aka "click and collect."  While the Visa Back to Business Holiday Study found 45% of UAE consumers plan to shop half or more online, 34% of them plan to shop mostly in store or "In Real Life" (IRL, for short) but with some online and just one in five (21%) planning to shop exclusively IRL.
This trend has not been limited to large merchants either. Restaurants and small merchants of all stripes have quickly embraced this. Visa strongly believes that these virtual and physical lines are likely forever blurred, making it more important than ever to create not just an online presence, but an omnichannel approach.
Social commerce is officially a thing. With consumers spending an increased amount of time online, it is highly likely that some customers may find you via a social platform before they even visit your website.
Instagram and Facebook have integrated eCommerce by making it easier for users to browse, choose, check out and pay without leaving the app. Social commerce could potentially benefit small businesses with better conversion, bigger basket sizes and fewer lost sales. Learn how to build your brand on social on the Visa Small Business Hub.
Contactless has become a key differentiator. In the Visa Back to Business study, 9 out of 10 consumers in the UAE have changed how they pay for purchases due to COVID-19, including shopping online when possible (59%), using contactless payments (52%) and not using cash as much (40%). The growing popularity of contactless payments indicates that the convenience, speed and safety of tapping to pay are preferred over traditional methods and SMBs should be hyper-focused on prioritizing a user-friendly buying and checkout experience.
To enable small businesses to accept contactless payments in an easy, and cost-effective way and help them reinvent the physical shopping experience for consumers, Visa has recently launched the Tap to Phone solution in the UAE in partnership with FAB. This low-cost solution could be a lifeline for small and micro businesses, especially during the ongoing pandemic crisis. It is recommended to get your digital solutions live now, to ensure there is time for proper testing and implementation for the busy holiday season.
Gift cards and kits are growing in popularity. The popularity of giving gift cards to family and friends for this year's holiday season are at the top during COVID-19. According to the Back to Business Holiday study, nearly three in four (74%) UAE consumers are planning to buy more digital gifts for the winter holidays this year compared to previous years. They expect to give more digital gift cards (45%, compared to 32% globally) compared to previous years, followed by digital access or memberships to online-based services (28%, compared to 16% globally), experiences like tickets, activities or trips (27%) and digital entertainment (27%).
Fraud is on the rise – be sure you are protected. Before the pandemic, it was easy to assume that fraudsters would try and hack the large merchants and organizations. Unfortunately, they have found that many SMB's aren't adequately protecting themselves, making them an easy target for fraudulent activities. Retailers need to keep their fraud-prevention strategy top of mind and balance it with a smooth customer experience – especially with the anticipated uptick in online holiday sales. The best way to find a solution that works for your business is to use fraud tools that are simple to configure and easy to deploy. Work with your payment provider to figure out how to increase your authorization rates, while minimizing declines and fraudulent transactions. In fact, many SMB's already are. Authorize.Net, a Visa solution, has found that fraud strategy now comes up in almost every conversation they're having with small businesses, which was not the case in previous years.
Small businesses are the backbone of the UAE economy. While COVID-19 has proven the resilience of small business entrepreneurs, it has also exposed their vulnerabilities. Taking creative and actionable steps to swiftly change with the times and respond to the demands of consumers has helped many small business owners thrive and innovate despite the circumstances. In fact, most small business owners in the UAE remain optimistic about the future (94%[1]) and that is not only a silver lining but it is good for business.
Looking for more help?
For more insights, tools and resources, small business owners and sellers can also access Visa's Small Business Hub designed specifically for UAE merchants.  You can also check out the recent Contactless Payments learning module  for:
-       Tips on creating a safe and clean tap to pay experience to limit interaction with customers
-       Advice from small business owners who implemented social distancing measures and adapted to health protocols
-       Consumer and retail shopping trends
-       Additional resources and links including how you can get free contactless payment signage from merchantsignage.visa.com
[1] https://ae.visamiddleeast.com/en_AE/about-visa/newsroom/press-releases/prl-19082020.html