How to keep your eCommerce website secure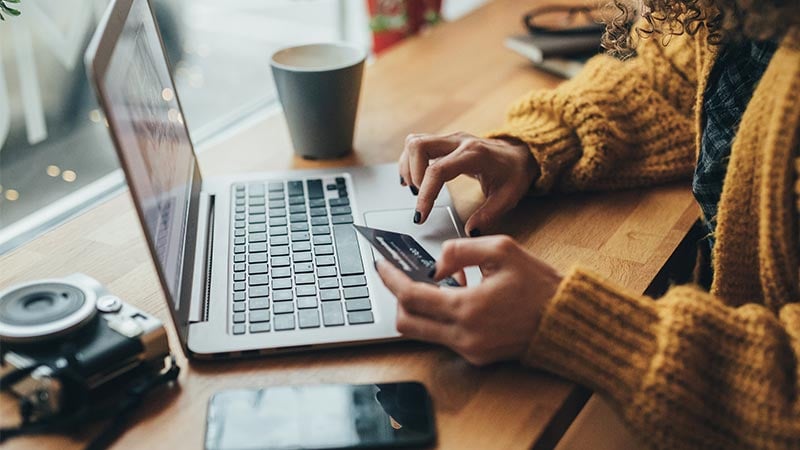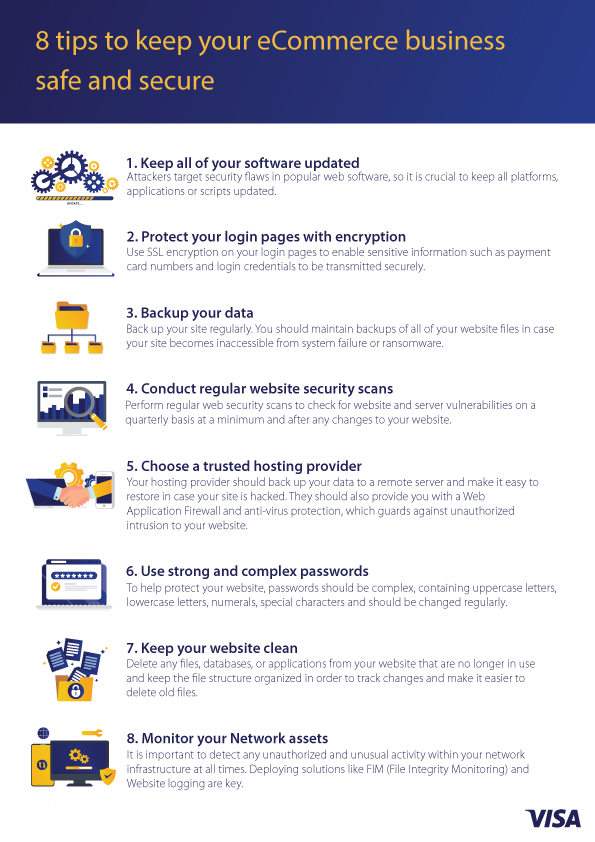 Major shifts in customer behavior have occurred around the globe, including a focus on eCommerce in response to the overarching need for a convenient and touch-less experience. While the ease of digital transactions has made our lives simpler, it has also had implications on cybercrime as attackers take advantage of the increase in digital payments activity. Cybercriminals are finding it easier to discover personal information and breach data on company websites that customers have come to rely on and trust.
As more and more shoppers make their purchases online, keeping eCommerce fraud in check, while minimizing interruptions to good customers, is key. Whether you're ready to take your business online, or are already running an eCommerce website, it's important that you are aware of the risks and the right steps to secure your website. Here are some tips and best practices to guide you in doing so:
·       Keep all your software updated: Keep all platforms, applications or scripts you have installed up to date. Attackers aggressively target security flaws in popular web software, and the software needs to be updated and patched where security vulnerabilities are identified.
·       Protect your login pages with encryption: Always use Secure Sockets Layer (SSL) encryption on your login pages to enable sensitive information such as payment card numbers and login credentials to be transmitted securely. This helps to prevent attackers from accessing confidential data that can be used to access the website's administrative page.
·       Backup your data: Regularly backup your website and files in case your site becomes inaccessible from system failure or ransomware. Some content management programs offer automatic backup, but you should also be able to back up databases and content manually.
·       Conduct regular website security scans: Perform website security scans on a quarterly basis at a minimum, and after any changes to your website. A security scan provides an assessment of vulnerabilities on your website. Remember that a scan may not detect all security flaws on your website, system or back-end databases because vulnerabilities are reported on an ongoing basis.
·       Choose a trusted hosting provider: Make sure you choose a secure and reputable web hosting company that offers ongoing technical support. Your hosting provider should also back up your data to a remote server and make it easy to restore in case your site is compromised. They should also provide you with a Web Application Firewall (WAF) and anti-virus protection, which intercepts and inspects incoming data and removes malicious code, preventing damage or unauthorized intrusion to your website.
·       Use strong, complex passwords: It is important to use strong passwords. Software packages often come with default passwords such as "password" or "admin," which are commonly known. Attackers are also known to frequently utilize automated 'brute force' software to guess and crack passwords. To help protect your website, passwords should be complex, containing uppercase letters, lowercase letters, numerals, special characters and should be changed regularly.
·       Keep your website clean: Every database, application, or plugin on your website is another possible point of entry for attackers. Delete any files, databases, or applications from your website that are no longer in use. It is also important to keep the file structure organized in order to track changes and make it easier to delete old files.
·       Monitor your Network assets: It is important to detect any unauthorized and unusual activity within your network infrastructure at all times. Deploying solutions like FIM (File Integrity Monitoring) and Website logging are key.