Fintech entrepreneurial spirit can catalyze economic recovery and growth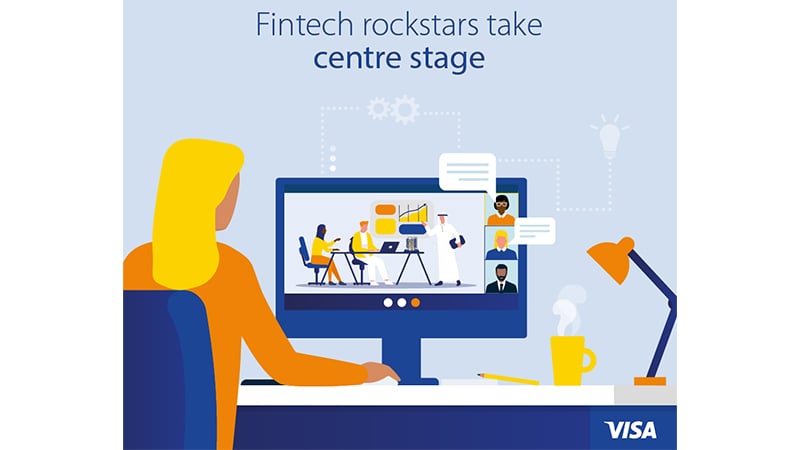 Andrew Torre, Regional President, CEMEA at Visa, shares how fintechs across the region are playing a key role in enabling SMB recovery, and how the Visa Everywhere Initiative is connecting start-ups to create global action on major challenges.
The fintech sector has been transforming at breakneck speed, reshaping the finance sector, and changing the way that people and businesses manage finances. According to recent research, global fintech investment more than doubled during 2020[i], and the CEMEA region alone witnessed 190 fintech deals worth about $1.3 billion.[ii] Across the region, supportive ecosystems are maturing as countries develop regulatory environments to enable new finance concepts and ideas.
In the wake of COVID-19, fintechs are taking even more impactful roles – as the champions of small businesses and recovery. A whole new generation of fintechs are helping solve complex problems and bringing financial services for consumers and small- and micro-businesses that are underserved. With 680 million people remaining unbanked, and 60 million untapped merchants in CEMEA, fintechs are part of an emerging community joining the rush to develop new services that will support these unserved segments.
Wet have welcomed many of these fintechs for the latest edition of our Visa Everywhere Initiative (VEI), our annual innovation program and contest that connecs financial start-ups and provides a global platform for them to showcase their innovations and ideas. Now in its sixth year, VEI invites start-ups to solve the payment challenges of tomorrow, and this year, the focus has firmly been on supporting SMB recovery.
VEI has attracted over 1,300 applications from start-ups this year, with more than 800 of these global nominations including small business recovery among their focus. The CEMEA region is also the greatest contributor to this year's contest, with over 35% of global applications coming from our region, including a large number from across Sub-Saharan Africa. The number and quality of the entrants illustrates the strength of entrepreneurship and innovation.
The finance sector has always been an early adopter of technology, and the pandemic highlighted how important technology has become to enabling resilience and adaptability. Throughout 2020 we witnessed a massive shift to eCommerce, contactless payments, digital wallets and other technologies as businesses reacted to restrictions and shifting consumer trends. Now solutions such as instalment purchasing and mobile payments are adding to the convenience of the shopping experience, whether online or in person, and consumers increasingly expect a digital-first experience. Customer preference is shifting to digital, and therefore it is critical that SMBs keep up with the demands of technology and overcome other barriers to entry.
The Visa Everywhere Initiative entrants show how regional start-ups are focusing their entrepreneurial spirit and know-how on tackling the challenge of financial inclusion, access to credit and other historic pain-points experienced. In the region, lack of financial services is a serious issue that affects the individual forcing them to rely on costly and inconvenient alternative services or facing a lack of credit for loans or lack of ability to build their savings. For small- and micro-businesses, lack of credit is a serious constraint on their ability to expand and grow. Given that SMEs account for up to 40% of GDP in emerging economies, and 70% of jobs[iii], empowering SMEs with financial solutions that are designed for their specific needs is vital to economic recovery.  
Through VEI and other initiatives, Visa and our fintech partners aim to develop practical solutions to these issues of financial inclusion and empowerment.
Visa believes in strong and enduring partnerships. We are connecting new partners to our payments ecosystem and have been proud to work with many future innovators through VEI. Since the launch of the initiative in 2015, there have been many success stories with finalists, including solutions to help thousands of East African merchants manage their supply chains and secure financing using mobile devices; automate UK based transactions to reduce physical interaction during COVID-19 and a new data-over-audio technology that can be used to securely send data for authentication and transactions using sound, for when data connectivity is not available.
Before the pandemic, it was clear that fintechs would play an important role in shaping the financial services market going forward. Now, it is more apparent than ever that fintechs have a crucial role to play, in bringing positive disruption to the sector, and creating solutions to complex challenges. With out-of-the-box thinking and pioneering new solutions, the fintech community are creating digital solutions that address the payment challenges of tomorrow.
The CEMEA finals for the Visa Everywhere Initiative will take place on June 9th, 2021.
[i] KPMG – Pulse of Fintech 2020
[ii] CEMEA Fintech Report Visa/CBInsights