Visa Foundation partners with Education for Employment
The collaboration will enable job placement and entrepreneurship training for 168 women in Egypt, driving financial inclusion and female empowerment in the country.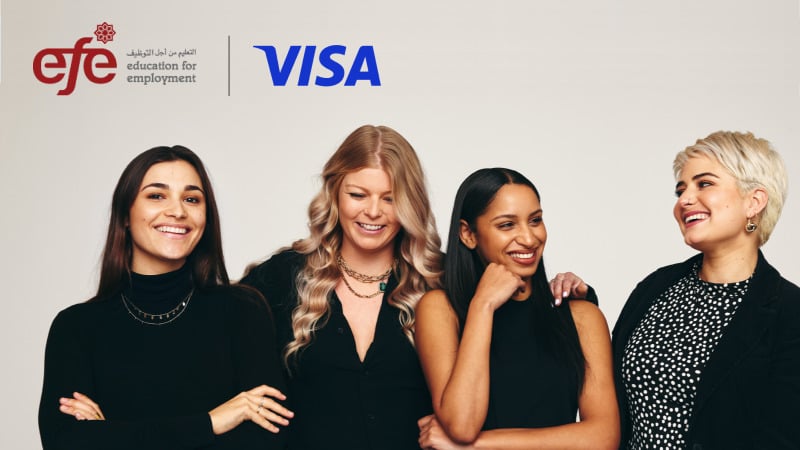 Visa Foundation, corporate foundation of leading payment company Visa Inc. – has collaborated with Education for Employment (EFE) as part of its continued efforts to empower women and drive financial inclusion through a new program focused on providing female entrepreneurs with business skills to scale up their businesses. 168 graduates of the "Economically Empowering Egyptian Young Women" program celebrated their achievement on 15 November 2022,  in the presence of more than 300 guests including employer partners from the private sector.
The project that is designed by EFE features a Job Placement and Entrepreneurship Training Program. Both programs focus on practical business skills women entrepreneurs need to propel their business and career ambitions. The program is also designed to support both employers and employees. The funding is derived from a larger US$250,000 grant by Visa Foundation directed towards supporting small and micro businesses (SMBs) in Egypt. The funds include grants to programs that provide SMBs with training, support services and access to capital, with an emphasis on women and underrepresented groups.
During the event, the female owners of SMB ventures had the opportunity to present their business models to the audience, as well as the opportunities and challenges facing their journey to business growth. They also highlighted the skills they require and aspire to gain for the advancement of their companies, praising the range of benefits and professional experience they acquired via the program.
"Our work with Education for Employment in Egypt is a necessary step towards the widespread empowerment of small businesses, and a vital push towards fulfilling the massive potential of female entrepreneurs," said Graham Macmillan, President, Visa Foundation. "We're proud of the EFE team and its graduates for their hard work towards financial equity. This partnership is one of many ways we're delivering on our Equitable Access Initiative, a strategic commitment to support gender diverse and inclusive SMBs around the world."
Fayrouz Mohamed, a graduate of the program said "Because of Visa Foundation and EFE-Egypt, the Job Placement Training Program was a great opportunity for it was the beginning to a new chapter in my life. The program helped me kick off the journey of achieving my dreams by guiding me to the first steps to achieve them."
Commenting on the graduation, Malak El Baba, Country Manager, Visa Egypt said, "Choosing Egypt for this program reflects Visa and Visa Foundation's commitment to the economic development and welfare of Egypt as one of our priority markets in the region. I am always proud to offer Visa's support to these outstanding, hardworking women, in alignment with our strategy of ensuring financial inclusion of all sectors in society." 
The funding was part of Visa Foundation's Equitable Access Initiative, a US$200 million strategic commitment announced in April 2020 to address longer-term needs of SMBs, while fostering women's economic advancement, which will be critical to long-term economic recovery from the COVID-19 pandemic. EFE-Global Director of Gulf Programs, Amr Abdallah said, "We are very pleased to partner with Visa Foundation to support young Egyptian women reach their potential by empowering them with the cutting-edge skills to compete in growing Job sectors in Egypt, especially in digital-based economy, for future of work and encouraging entrepreneurial spirit to support Egypt economy."
In addition to Visa Foundation's Equitable Access Initiative, Visa launched She's Next, a flagship program, in Egypt earlier this year, in collaboration with CIB and USAID. The program granted five Egyptian women-led businesses in Egypt a US$10,000 cash prize and a year of business coaching from IFundWomen to help their businesses grow and expand, as well as regional exposure and networking opportunities with partner stakeholders and VCs.
Visa Foundation works with charitable organizations to support underserved people and communities. As its central focus, Visa Foundation is committed to helping gender diverse and inclusive SMBs around the world to thrive and prosper.