Driving digital innovation in Morocco
Visa's forum highlights latest innovative solutions.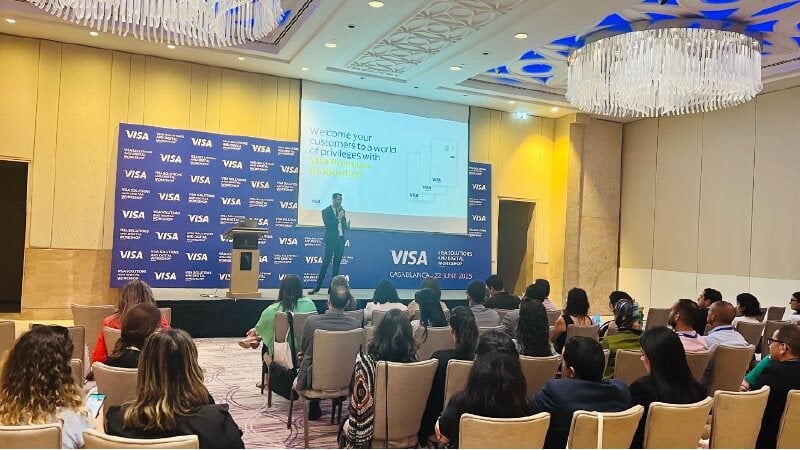 Morocco has witnessed a remarkable surge in digital payments, driven by a dynamic and tech-savvy population embracing the convenience and security offered by modern financial solutions. As the country's digital economy continues to flourish, it becomes imperative for stakeholders to navigate the complexities of this evolving landscape. Against this backdrop, Visa hosted more than 60 participants from banks, Fintechs and Mobile Network Operators (MNOs) at its first Solutions and Digital Forum in Casablanca. The forum served as a vital platform for stakeholders to come together, gain insights, and chart a path towards further progress and innovation.
Engaging in Discussions on Industry Trends and Opportunities
The forum facilitated in-depth discussions on the latest trends shaping the payment industry, including opportunities within new segments such as ultra-high network and youth. It also addressed the challenges that lie ahead. Participants immersed themselves in thought-provoking conversations, exploring topics ranging from the rise of contactless payments and mobile wallets to harnessing the potential of loyalty solutions for driving new acquisition and usage. Throughout the event, industry experts shared valuable insights, enriching the overall experience for all attendees.
Addressing Challenges and Driving Growth
Recognizing that progress often comes with hurdles, the workshop dedicated considerable attention to addressing the challenges faced by businesses on their digitization journey. Participants engaged in candid conversations about cybersecurity, regulatory compliance, interoperability, and customer trust. By collectively tackling these obstacles, Visa aimed to pave the way for sustainable growth, enabling businesses to harness the full potential of digital innovation and contribute to Morocco's thriving digital economy.
Visa's Ongoing Commitment to Partner Success
Beyond the workshop, Visa remains steadfast in its commitment to support its partners on their digital transformation path. With a global network, industry expertise, and cutting-edge solutions, Visa continues to empower its partners, helping them navigate the complex payment landscape and unlock new opportunities. Through strategic collaborations and innovative initiatives, Visa endeavors to enhance financial inclusion, promote secure transactions, and drive economic growth in Morocco.