Visa's "GetP@id" initiative is empowering Gen Z content creators
The program aims to create a collaborative ecosystem where budding creators can learn from established ones and start turning their passion into a source of income.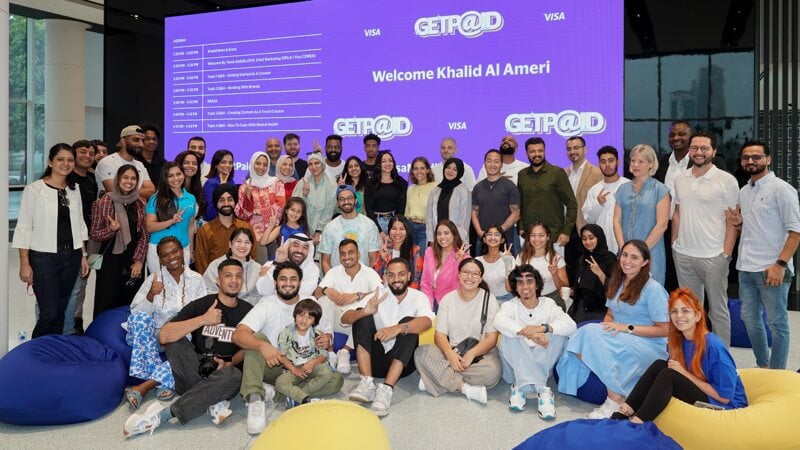 Visa officially launched its innovative 'GetP@id' initiative with an insightful, interactive workshop led by renowned Emirati influencer and content creator, Khalid Al Ameri. As part of its commitment to nurturing the next generation of entrepreneurs in the United Arab Emirates, the event welcomed over 50 emerging and aspiring content creators to glean invaluable tips on jumpstarting their careers.
Visa's 'GetP@id' is dedicated to helping Gen Z creators and influencers transform their passions into profitable careers, bridging the gap between creativity and commerce. Visa will work closely with established creators to mentor emerging talent and provide them with the tools, advice, and support to financially benefit from content creation and grow their skills.
The launch event hosted at Visa's headquarters in Dubai on Sunday 17 September, kicked off with Tarek Abdalla, Visa's Chief Marketing Officer CEMEA, extending a warm welcome to all attendees. Following this, Khalid Al Ameri shared an exclusive glimpse into the various learnings and challenges encountered on his journey to amassing over 21 million followers across several social media platforms. Key topics covered during the workshop included: Getting Started as a Content Creator, How to Successfully Work with Brands, Creating Content as a Travel Creator and How to Cope with Mental Health.
The packed schedule provided ample opportunities for creators to interact with Khalid Al Ameri, including extensive Q&A sessions where attendees shared their thoughts and experiences. The workshop reflected the initiative's vision of creating a collaborative ecosystem where novice talent can learn from established influencers, empowering the next generation of content creators.
By introducing 'GetP@id' to catapult the careers of creators, Visa continues to champion financial inclusion, facilitating money movement and fostering success for the creators of tomorrow.
Learn more about Visa's 'GetP@id' initiative here.